vendredi, 06 juin 2014
Me voilà de retour d'un break de quelques jours entre amis à Barcelone. Oui, je suis un peu partie sans rien dire, mais je ne suis pas revenue les mains (ni l'estomac) vides pour autant :)
Here I am, back from a few days with my friends in Barcelona! I did leave without notice, but I didn't come back empty-handed :)
C'était une première pour moi! J'étais sur place pour profiter du festival Primavera Sound, mais aussi pour visiter, me promener, prendre un peu le soleil (raté puisqu'il a plu quasi tous les jours) et surtout, voir mes amis loin du stress de nos vies belges. Et je sais qu'absolument tout le monde connaît Barcelone, mais laissez-moi juste le plaisir de partager avec vous quelques photos et bons plans découverts sur place...
It was my first time there, I was attending the Primavera Sound festival, but I was also counting on that time to visit the city a little bit and soak up some sun (which didn't happen, since it was raining pretty much every day). Oh and I really needed to have some serious fun with my friends, far away from our stressful belgian lives! Now I know evereybody's been to Barcelona, but please let me just share with you some pictures and hotspots that we discovered there...
Pour bruncher le premier jour en mode sortie d'avion, nous sommes allés chez Granja PetitBo, manger des oeufs, des yaourts, du bacon, le tout accompagné d'un thé très parfumé ou d'un immense jus de fruits maison. C'est vraiment un super bon plan, le cadre est très cool et on y mange très bien pour pas cher !
On the first day, after a very early flight, we went for brunch at Granja PetitBo: we had eggs, yoghurt, bacon, with some nicely perfumed tea and huge glasses of homemade juice. I really loved that place, the atmosphere is great and the food is amazing, for a very reasonable price.
Petit souvenir pris à l'ouverture de notre 3e bouteille de cava rosé dans La Champagneria. Une très, très, très bonne adresse aussi, où vous dégusterez des cava délicieux et des tapas pour moins de 5 euros. La file d'attente en vaut largement la peine, et une fois à l'intérieur, vous pourrez même acheter quelques bouteilles et les ramener chez vous !
Here's a little souvenir of when we opened our third bottle of rosé cava in La Champagneria. It really is one of the hottest spots in Barcelona, where you can drink amazingly delicious cavas and tapas for less than 5 euros. Don't be scared by the line at the door, once you're in you'll even be able to buy some bottle to take home with you!
Le dernier jour, on s'est fait une véritable orgie de tapas ! Lieu choisi pour l'occasion: Kino, dans le Raval, près du MACBA. Installés en terrasse avec des cruches de sangria et les assiettes qui se succèdent... on ne pouvait pas rêver meilleure façon de dire au revoir à Barcelone.
On the last day, we had an orgy of tapas at Kino, a tapas bar located in Raval, near the MACBA. We hung out on terrace with a few buckets of sangria, plates coming in until we were very, very full. What a great way to say goodbye !
Mais aussi...
- la Clara, mélange de bière et de Fanta citron (un peu comme nos panachés ou, pour ceux qui connaissent, le mazout - mais en beaucoup plus rafraichissant!)
- la Plaça Reial, l'endroit qui m'a le plus tapé dans l'oeil tellement c'est joli et paisible !
- la Mar Salada, restaurant d'un ancien chef étoilé sur le front de mer à Barceloneta. On a profité du menu lunch à 17€ (il faut le demander!) pour manger comme des rois: fruits de mer, plats en sauce, magnifique paëlla, on ne se refuse rien ;)
Pour plus de bons plans, consultez ma liste sur Foursquare !
But also...
- Clara, a mix between beer and Fanta lemon - very nice and refreshing !
- the Plaça Reial, my favourite place in BCN: it's so pretty and quiet !
- La Mar Salada, a formerly starred chef's restaurant in Barceloneta, where we enjoyed the 17€ lunch formula and ate like kings: seafood, delicious sauces, a beautiful paëlla... living the life at a reasonable price !
For more tips, go check out my Foursquare list !
lundi, 12 mai 2014
Si vous me suivez sur Instagram, vous avez peut-être vu passer le hashtag #5daysofhealth associé à une photo plutôt foodporn ;)
Depuis le 5 mai et jusqu'au 17, Tao organise en collaboration avec Starmeal un programme combinant un régime sain et équilibré à un peu de sport.

If you follow me on Instagram, you might have spotted the #5daysofhealth hashtag, associated with a very « foodporn » picture ;)
Since May 5th and until the 17th, Tao and Starmeal are organizing a programme combining a healthy diet with a little bit of sports.
J'ai testé la semaine dernière et ça m'a plutôt réussi: à chaque repas, une salade, des wraps ou des tartines Starmeal et un Tao, durant 5 jours (ok, j'avoue j'ai pas joué le jeu à fond parce que mes biscuits Dinosaurus au petit-dej' sont sacrés). Si je ne pense pas spécialement avoir perdu du poids (je ne me pèse pas donc voilà), je me suis définitivement sentie plus légère et en forme. Comme quoi, on ne le rappellera jamais assez, rien ne vaut une alimentation équilibrée, complète et saine.

I tested it last week and it worked pretty well! Healthy salads, wraps or sandwiches and a Tao for every meal during 5 days (ok, I admit I cheated a bit, but my Dinosaurus cookies for breakfast are sacred)! I don't really think I have lost any weight (I never weigh myself anyway), but I definitely felt better, more in shape, more awake. I know it's very cliché to say, but it's also very true: nothing beats a healthy, well-balanced diet.


Si vous souhaitez à votre tour faire l'expérience #5daysofhealth, rendez-vous dans votre supermarché Carrefour ou Delhaize: à l'achat d'une salade Starmeal, vous recevrez un Tao gratuit !

PS: évidemment, les repas Starmeal ont l'avantage de nous permettre de suivre facilement un régime équilibré, mais ça marche aussi avec des salades 'maison' et des produits frais ! ;)

If you'd like to hop on the #5daysofhealth train, go to your nearest Carrefour or Delhaize store: for every Starmeal salad you buy, you'll receive a free Tao!

PS: of course, Starmeal offers an easy and convenient way to follow all this good advice, but it also works with fresh, homemade food! ;)
jeudi, 21 novembre 2013
Chose promise, chose due: aujourd'hui, je vous présente le Cafe Theatre, un hotspot gantois dont j'ai récemment découvert tout l'intérêt: les cocktails !
As I promised last week, let me introduce you to Cafe Theatre, one of Ghent's most famous hotspots that I recently discovered through its specialty: cocktails !

A première vue, le lieu est assez sympa: tout boisé, lumière tamisée, ambiance détendue et relativement calme... ça me rappelle un peu les bars dans lesquels les nanas de Sex and The City débriefent leur journée autour d'un cosmo. Oh, et tiens, à propos de cosmo: le cocktail-emblème du Cafe Theatre s'appelle le Woman On Top, sorte de cosmo amélioré ! Je vous le dis tout de suite, c'est une tuerie; parmi tous les cocktails goûtés ce soir-là, c'était de loin mon favori.
Pourtant la compétition était rude: fruits frais, jus de qualité, savoir-faire des barmen, tous les ingrédients sont réunis pour une dégustation digne de ce nom. Autre avantage, la carte a une taille assez respectable pour satisfaire les goûts de chacun, et les prix se situent dans la moyenne.
The first thing you notice when you enter the place is how cosy it looks: all wood everything and dimmed lights for a laidback and relaxed atmosphere. It kind of reminded me of the bars where the girls from Sex And The City used to meet up for cosmopolitans and talk about boys all night. Oh and about cosmos: Cafe Theatre's signature drink is called Woman On Top, a little bit like a cosmo, only better ! Best cocktail I've ever had, and by far my favourite on the menu.
Not that there wasn't any competition: there are so many drinks on that menu that everyone can find something they'll like, and all the cocktails are made with fresh fruit and quality juices by highly skilled bar tenders. The cherry on the cake being the fair prices !
Woman On Top, Lazy Red Cheeks & Amaury sippin' a Bloody Mary
Je vous avoue que ça m'a même donné envie de m'y mettre, aux cocktails ! Si vous avez des plans pour choper du matériel...
Le Cafe Theatre, c'est donc l'endroit idéal pour aller boire un verre entre copines, après une longue journée shopping, juste avant de sortir ou... d'aller manger ! En tout cas, c'est l'option que nous avons choisie en empruntant la porte qui sépare la partie bar et la partie restaurant du Cafe Theatre. Allez, une image vaut mieux qu'un long discours...
All these cocktails made me wanna start getting more into it, getting some gear...
So, Cafe Theatre is a great place to meet up for drinks with friends after a long day of shopping, before going out or... as an introduction for dinner ! At least that's what we did when we crossed the door leading to the restaurant part of Cafe Theatre. And boy did we stuff ourselves...
Contre-filet de charolais belge à la béarnaise, frites à l'ancienne et onion ring - Côte de biche aux légumes anciens - Cocktail dont j'ai oublié le nom mais qui est une sorte de daiquiri ananas bien chargé dont raffolait Hemingway - Croquettes de crevettes
Ouaip, il y a du level et ça se voit ! Mon coup de coeur: les croquettes de crevettes, un véritable délice, assaisonné à merveille et parfait pour s'ouvrir l'appétit. L'onion ring était juste parfait lui aussi...
Ici, les prix sont assez élevés, alors c'est plutôt à réserver pour les occasions spéciales. A ne pas rater, en tout cas, car la nourriture est délicieuse et l'ambiance classe mais conviviale.
And yes, it's good as it looks! My favourite dish was the shrimp croquettes: they were simply delicious, so tasteful and perfectly seasoned. The onion ring wasn't too bad either... ;)
I ain't gonna lie, the restaurant is a little expensive. But hey, the finer things in life have a price, right ? I would definitely recommend it for special occasions: the food is great and the atmosphere is just the right mix between classy and cool.
Cafe Theatre
Schouwburgstraat 5-7
9000 Gent
jeudi, 31 octobre 2013
Sara, moi et notre ami Abdullah, rencontré dans une soirée à Brooklyn et adopté dans notre famille de gogoles... - Sara, me and our friend Abdullah, who we wet at a party in Brooklyn and that we adopted in our freak circus !
Lors de notre séjour à New-York, nous avions choisi de séjourner dans le sud de Manhattan. Un peu cher, et donc un peu galère ! A deux semaines de l'échéance, nous n'avions toujours pas réservé d'hotel ni d'appartement, quand au détour d'une recherche Airbnb (oui, certains New-Yorkais prennent encore le risque malgré l'"illégalité" de la chose), nous sommes tombées sur les annonces de Mike. Mike est un New-Yorkais d'origine chinoise, il loue plusieurs endroits dans différents quartiers de la ville, l'appartement à Chinatown où nous étions étant une guesthouse. En gros, vous louez une chambre privative, et vous partagez une cuisine et des salles de bains communes avec les autres locataires (si toutes les chambres sont occupées, ça fait 8 personnes pour 2 salles de bains). On payait environ 80$ par nuit, soit vraiment rien du tout, et le logement était franchement top. Non seulement la chambre était propre et spacieuse, le matelas de qualité, mais en plus Mike et sa femme Vanessa étaient aux petits soins avec nous en cas de pépin.
Le seul gros inconvénient, c'était le bruit: Chinatown, c'est des cris, des coups de sifflet, des klaxons dès 7h du matin, et avec notre simple vitrage au 1er étage, on a fait d'assez courtes nuits.
Malgré tout, si vous allez à New-York, je ne peux que vous recommander de vous adresser à Mike ! Que vous soyez seul, à deux ou avec des amis, le rapport qualité/prix est imbattable. Dites-lui bonjour de ma part! ;)
While we were in New-York, we chose to stay in the south of Manhattan. Yes, it's quite expensive, and finding something was a whole battle of its own. Two weeks before leaving, we still didn't have a clue where we would be sleeping, when suddenly, as we were frantically checking Airbnb (yup, some New-Yorkers still take the risk and break the law), we found Mike's ad. Mike is a New-Yorker born from Chinese parents, and he has a couple of places in NYC. The guest house that we chose was in Chinatown. The idea of a guest house is that you have your own private room, but you share the kitchen and the bathrooms with up to 6 other people, which was actually really okay. We paid 80$ for a night, which is incredibly low for the City, and the place was great : the room was clean, with a very comfy bed, and on top of that Mike and his wife Vanessa were the most adorable hosts and helped us whenever we needed it.
The only downside of Chinatown is the noise : it's a hell of a mix of screams, whistles, klaxons, and it starts at 7 am. We were sleeping on the 2nd floor and our windows were single glazed, so needless to say our nights were rather short.
Nevertheless, if I had to do it again, I would. I can only recommend it to you if you're visiting NYC, whether you're travelling alone, with your significant other or with friends, the value for money is simply unbeatable. And don't forget to say hi from me !
Chinatown, donc ! Personnellement, j'ai adoré. Oui, il y a les odeurs, les marchés de poisson, les crachats, la majorité des gens ne parlent pas vraiment anglais... mais c'est tellement dépaysant (pour le coup, on a vraiment l'impression de changer de ville)!
Comme on y était tous les jours, je n'ai pas vraiment pris de photos et je le regrette parce que j'aurais voulu vous montrer... le McDo' avec une devanture en forme de temple asiatique, les lampadaires dans la rue décorés comme des lampions, les noms des rues en chinois, mais aussi les produits frais, les poissons en aquarium dans les restaurants...
So, Chinatown ! I personally loved it. Of course, there's the smells, the fish markets, the spitting, and most people don't really speak english... But it felt kind of exotic, being there really felt like living in China inside of New-York.
Since we were there everyday, I kinda forgot to take pictures, which I deeply regret now, because I wish I could have shown you the temple-shaped McDonalds, the lantern-styled streetlights, the street names written in chinese... but also the amazing fresh vegetables, the fish swimming in the restaurants' windows...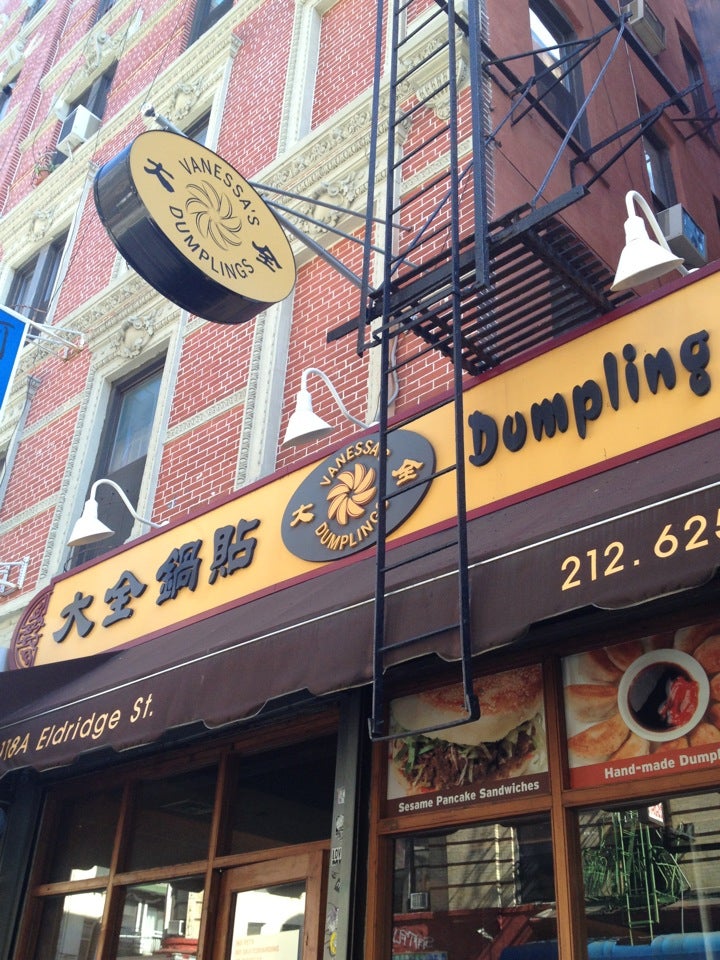 Photo/ Angela L. via Foursquare
Vanessa's Dumpling House
Sur toute la durée du séjour, nous n'avons mangé asiatique qu'une seule fois, mais on a fait ça bien !
Guidées par les appréciations des clients sur Foursquare (9,4/10, pas mal hein?), nous avons choisi de tester Vanessa's Dumpling House, un "snack" chinois où j'ai dîné pour... 5$. Vive les 4 dumplings frits à 1$ ! Les bouillons de légumes aux nouilles sont délicieux aussi, et les sandwiches/crêpes me faisaient vachement de l'oeil mais bon, mon estomac a ses limites.
Pour plus de confort, on a pris du takeout, mais il est aussi possible de manger sur place.
We actually had asian food only once, but damn, we did it right !
Since we didn't want to go to any random place (and take the risk to get sick) I was checking our Foursquare reviews in our neighborhood, when I found a place rated 9.4 (!!!) called Vanessa's Dumpling House, which was basically some kind of asian snack. We decided to go for it and it was amazing ! I had a full dinner for 5$ - yay to the 4 fried dumplings for 1$! - all fresh and tasty. The vegetable noodle soup was great too, and the pancakes/sandwiches looked pretty awesome too – unfortunately I had to make choices.
We went for take out, but you can also eat there (though it's pretty busy and loud inside).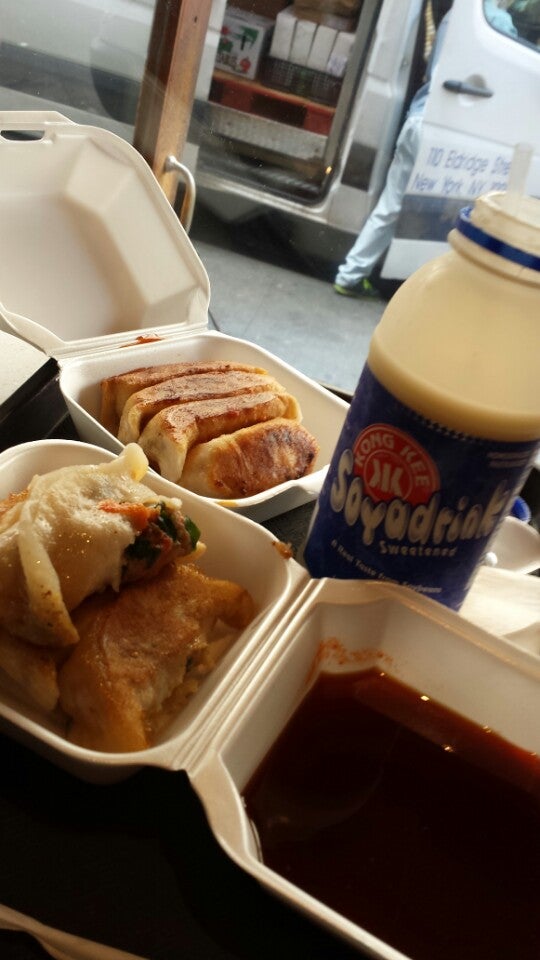 Photo/ Stan S. via Foursquare
Ca vous a donné faim? Ca tombe bien, parce que qu'en remontant un peu vers le Nord et en parcourant le Lower East Side et l'East Village, on trouve un paquet de bons endroits pour manger. En fait, c'est carrément le repaire pour les estomacs sur pattes, avec l'avantage d'être, de façon générale, plutôt bon marché. C'est donc un "spécial bouffe" que je vous propose aujourd'hui !
Feeling hungry now ? Well, wait for it because it's gonna get worse ! Let's walk north to the Lower East Side and the East Village, where you can find a whole bunch of great places to eat. Foodies' paradise, kinda, and cherry on the cake, in general it's pretty cheap. Anyway, let's check it all out !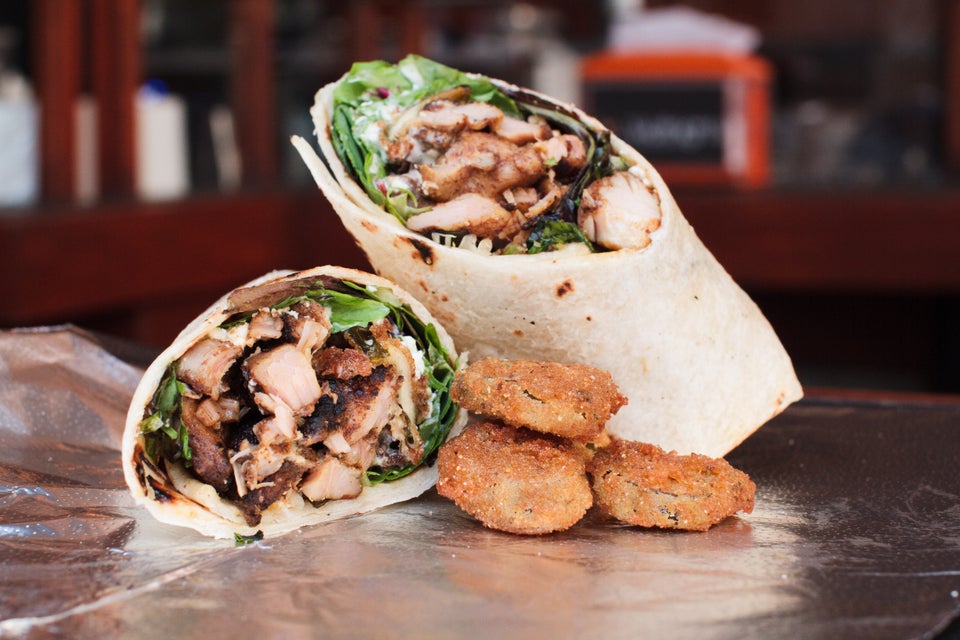 Photo/ Wolfnights via Foursquare
Wolfnights
Ici, la spécialité, c'est les wraps ! Mais attention, rien à voir avec le poulet-curry du Delhaize; chez Wolfnights, même les galettes sont faites maison et cuites sur place, devant vos yeux. Quant aux garnitures, elles rivalisent d'originalité et combinent goûts sucrés et salés pour un lunch ou un dîner sain et rassasiant.
The specialty here is wraps ! But let me tell you right away, they have nothing to do with that chicken-curry crap from the supermarket. At Wolfnights, even the pancakes are homemade, right in front of you at the counter. What about what's inside ? Well, whatever you choose, you'll get an original mix of fresh ingredients, with delicious sweet accents. Perfect for a quick and satiating lunch or dinner !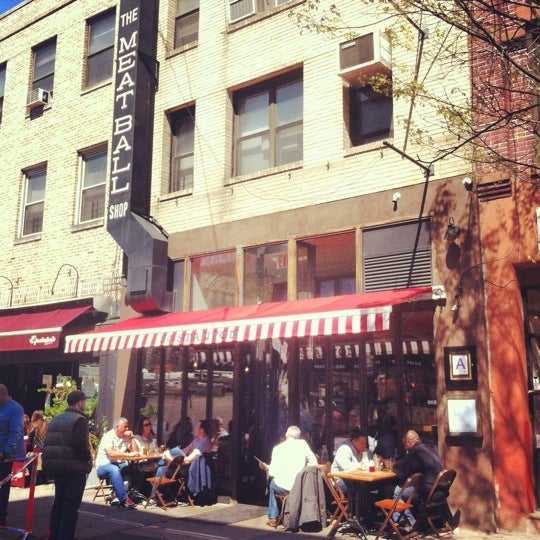 Photo/ Campbell K. via Foursquare
The Meatball Shop
Un de mes plus énormes coups de coeur à New-York ! Le concept: choisissez votre formule (assortiment, sandwich...), vos boulettes de viande (boeuf, porc...), votre sauce, votre accompagnement (légumes, purée, pâtes, focaccia...), cochez tout ça sur votre carte plastifiée à l'aide du marqueur effaçable qu'on vous a confié, et dégustez quelques minutes plus tard un plat presque sur mesure à un prix imbattable. Pour ne rien gâcher, le personnel est hyper sympa et la musique est juste parfaite (quand j'y suis allée, ils passaient Frank Ocean, Aaliyah, Destiny's Child...).
Allez, je fais péter le best of des photos trouvées sur Foursquare.
Ok, this is one of the places I loved the most in New-York ! The concept is simple : choose your dish (sliders, sandwiches...), your kind of meat (beef, pork...), your sauce, your side dish (mashed potatoes, veggies, pasta, foccacia...), tick it all on the menu with your erasable marker, and a few minutes later, enjoy a delicious (almost) custom-made meal at a very fair price. On top of that, their personnel is adorable and the music is pretty dope (while I was sitting there, I heard Frank Ocean, Aaliyah, Destiny's Child...).
Since my pictures were too dark to show, here's a compilation of the most luscious pictures I found on their Foursquare page :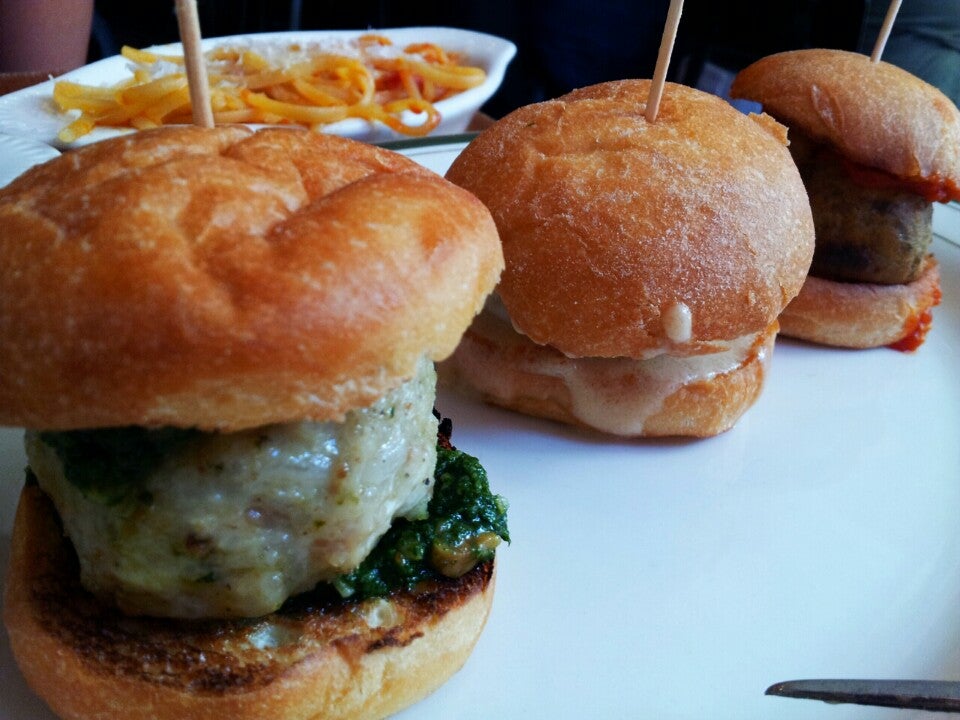 Photo/ E M via Foursquare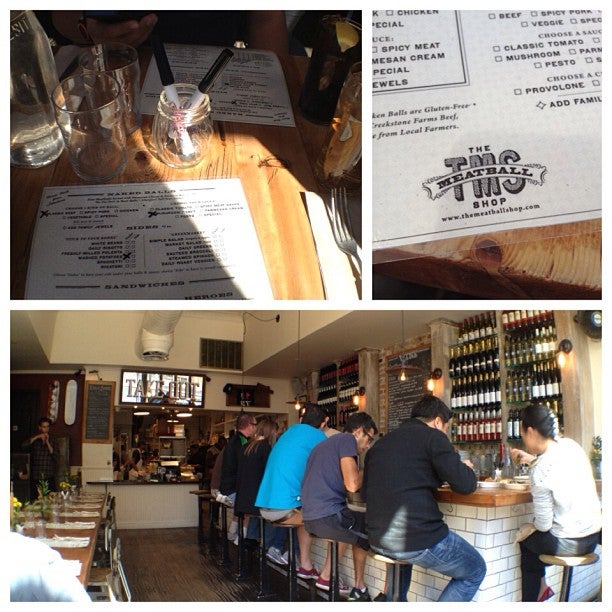 Photo/ Ariel S. via Foursquare
Photo/ Gemma L. via Foursquare
Bon à savoir, parce que souvent la file est telle que vous devez attendre près d'une heure: il est également possible de commander son plat en takeout !
Good to know : there is usually a line and you might have to wait a while before you can get a table. So if you're in a hurry : they also do take out !
Katz's Delicatessen
Katz's, c'est le célèbre restaurant de Quand Harry rencontre Sally (au cas où vous ne l'avez pas encore vu dans votre guide, il y a une grosse pancarte dans la salle pour vous le rappeler). Mais pour les New-Yorkais, cet établissement est surtout connu comme étant le temple du fameux sandwich au pastrami, dont je vous laisse juger le potentiel (photo non truquée de mon sandwich que je n'ai pas réussi à terminer - mais presque):
Katz's was made famous by When Harry Met Sally - and in case you didn't see it in your guide, there a big sign right in the middle of the restaurant to remind you. But for New-Yorkers, it's mostly known for being the Mecque of all the meat lovers : its pastrami sandwich is world famous, so I had to have it ! Here's a picture that will help you understand how big of a deal it is :
Ils ont également des menus un peu plus équilibrés (ou un peu moins déséquilibrés), comme des sandwiches à la dinde, mais franchement, n'y allez pas si vous êtes au régime.
They also have less-fat dishes (I wouldn't say « lighter »), like turkey sandwiches, but let's be honest : you're not going there if you're on a diet.
En résumé ? C'est pas donné , c'est gras et ça plombe l'estomac, mais bon dieu que c'est bon. Amateurs de viande, foncez !
It's not cheap, it's definitely pretty fat and filling, but man, it's so damn good ! Meat lovers, go for it !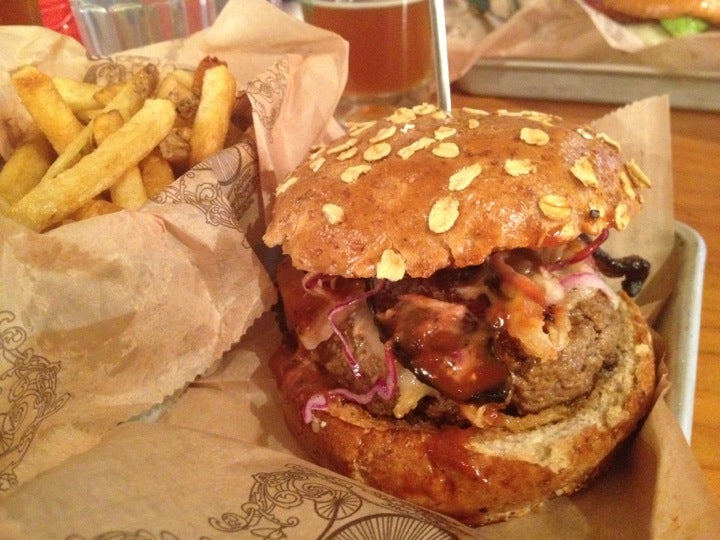 Photo/ Doug K. via Foursquare
Bareburger
Terminons sur une découverte faite, une fois n'est pas coutume, par un hasard complet. Alors que chacune de nos expérimentations food était le résultat d'une recherche minutieuse sur Foursquare, ce soir-là, sans internet, nous avons dû nous fier à notre instinct. Après avoir tourné le dos à quelques endroits douteux, on s'est décidé pour Bareburger, dont l'enseigne clamait "TROP BONS BURGERS BIO ET MILKSHAKES DE OUF" (si si, à peu de chose près). Au menu donc, un burger-frites pas comme les autres: ici, on choisit parmi un large assortiment de viandes et de buns pour se retrouver avec un burger presque sur mesure et un panier de frites plutôt respectables. Le tout pour une quinzaine de dollars au total et un estomac bien rempli !
Let's finish with one of the only places that we discovered by chance ! Indeed, every other restaurant pick was the result of many Foursquare searches through all the places above 8. But this time, with no internet available, we had to follow our instincts. So after walking around for a bit and staying out of all kinds of weird places, we ended up sitting on the terrace of a place called Bareburger, which sign basically claimed "AWESOME ORGANIC BURGERS AND CRAZY MILKSHAKES" (close enough). The menu offers a large variety of burgers with all kinds of meat, buns and side dishes, but we went for a classic a chose a cheeseburger with fries. The food was really tasty, and the fries pretty decent, those were 15$ well spent !
Et avant de vous laisser à votre long week-end, deux photos-bonus-inclassables prises lors de nos promenades dans le quartier...
Now before I leave you to your long week-end, two pictures we took during our walks in the neighborhood...
(Oui, la pose, c'est juste parce qu'on était dans Jersey Street)
(And yes, just because we're on Jersey Street)
xx

Tous ces endroits et des dizaines d'autres sur ma liste Foursquare In New-York !
You can find all those places and many more on my New-York Foursquare list !
mercredi, 04 septembre 2013
Je sais, je sais, je sais; j'ai été très absente ces derniers jours. Entre un déménagement chaotique et une rentrée sur les chapeaux de roue, je vous avoue que je n'ai pas vraiment eu de temps à consacrer à mon blog. Pourtant, il y a quelques jours, Simple & Funky a célébré en silence 4 ans d'existence !
I know, I know, I know: I 've been quite absent lately. Between a chaotic move and a hectic September kick-off, I admit that I haven't really had much time for my blog. However, a few days ago , Simple & Funky celebrated four years of existence !

J'ai beau me souvenir comme si c'était hier du jour où, encore étudiante naïve sans le sou, j'ai écrit mon premier article, je n'arrive pas à réaliser ce que ces 4 ans représentent. Tellement de choses ont changé dans ma vie, j'ai tellement grandi, vécu tellement d'expériences…

Bref, happy birthday Simple & Funky, donc !

Even though I still can remember that time when I was a young naive student writing my first post like it was yesterday, I can't seem to realize that these are 4 years . So many things have changed in my life, I have grown so much, went through so many experiences ...

Anyway, happy birthday Simple & Funky !


Pour l'occasion mais aussi pour me faire pardonner en attendant mon retour en grande forme avec de "vrais" articles, je vous propose aujourd'hui un concours en partenariat avec Magnum et son action Love @ The Movies, qui aura lieu le 15 septembre prochain.

Et comme premier prix, la chance pour l'un ou l'une de vous de remporter un dîner étoilé pour deux avant la séance de ciné ainsi qu'évidemment, la projection du film Mr Morgan's Last Love en compagnie de l'élu(e) de votre coeur ou de votre meilleur(e) ami(e).

Il y a également 10 tickets duos à gagner pour cette projection très spéciale, où vous profiterez d'un tas de surprises que vous concocte Magnum et repartirez avec un goodie bag. Vous aurez également la possibilité de participer et gagner un week-end romantique à Paris !
For the occasion, and also to make up for the lack of activity that will probably last a few more days, I have a contest for you that starts just now ! I partnered with Magnum and their Love @ The Movies action, that will be held September 15.

And as first prize , one of you will have the chance to win a gourmet dinner for two before heading to the projection room and watch the movie Mr. Morgan's Last Love in the company of your significant other or your best friend.

There are also 10*2 tickets to win for this very special screening , where you will enjoy a lot of surprises by Magnum and receive a goodie bag. You will also have the opportunity to participate and win a romantic weekend in Paris !
Comment participer?

1. Téléchargez l'application Magnum 5 Kisses
2. Prenez-vous en photo avec l'application: le but est de me montrer votre bisou le plus original/beau/mignon…
3. Une fois la photo prise, appliquez l'un des 5 effets disponibles
4. Rédigez un petit message d'amour en remplissant le formulaire prévu à cet effet
5. Partagez votre baiser sur Facebook et envoyez-moi votre photo à nadiasimplefunky(at)gmail.com. La photo la plus sympa recevra le gros lot, et j'attribuerai également à 10 autres participants un ticket duo pour le film!

Attention, veillez donc à être dispo pour vous rendre le dimanche 15 septembre de 18h à 00h au Kinepolis de Bruxelles!
How to participate?

1 . Download the Magnum 5 Kisses app
2 . Take a picture with the application : the purpose is to show me your most original/beautiful/cute kiss.
3 . Once the picture is taken, pick one of 5 available effects
4 . Write a short love message by completing the form
5. Share your kiss on Facebook and send me your photo to nadiasimplefunky(at)gmail.com. The coolest picture will receive the prize, and I will also pick 10 more participants that will receive a duo ticket for the movie!

Please make sure to make yourself available for Sunday, September 15th from 18h to 00h at Kinepolis Brussels !

Bonne chance à tous, et que les meilleurs gagnent !

Vous avez jusqu'à samedi 7/09/2013 12h00 (midi) pour participer alors à vos iPhone !

Good luck to everyone and may the best win !

You have until Saturday 7/09/2013 at 12h00 (noon) to participate so grab your iPhone now !