mardi, 28 octobre 2014
Le week-end dernier, on est passés à l'heure d'hiver (je sais pas si vous aviez remarqué? ha ha.), du coup je me suis dit que ce serait le bon moment pour faire un petit bilan de ces quelques derniers mois. Ils furent très chargés, comme en témoigne la rare fréquence des posts sur ce blog... nouvelle maison, nouveau boulot, nouveaux horaires... j'essaye de prendre un maximum le temps de profiter, mais le temps file à une de ces vitesses !
Last week-end, we changed to winter time (I don't know if you noticed? haha.), so I figured now would be a good time to look back on the past few months. It got very busy, as you can see from the lack of posting lately... new house, new job, new schedule... I try to enjoy my free time as much as possible, but time literally flies these days!
Cette photo date de fin août (déjà!), on avait décidé avec des amis de se faire une après-midi à Walibi. C'était ma première fois (apparemment c'est incroyable!) et j'ai beaucoup aimé! Un peu la migraine à la fin de la journée, mais plein de bons souvenirs pour l'amatrice de sensations fortes que je suis :) Merci à Alizé pour les tickets! <3
This picture was taken last August (already!), on that day we decided with a few friends to go to Walibi for an afternoon. It was a first for me (which apparently is unbeliavable) and I liked it very much! I did have a huge headache at the end of the day, but I left with a head filled with memories. Thanks Alizé for the tickets ! <3
J'ai aussi essayé de perfectionner mes compétences culinaires en compagnie d'Oli, mon ami gourmand... préparé en à peine 20 minutes, je vous présente le meilleur burger que j'ai jamais fait (et mangé) ! La particularité? On a mélangé plein d'aromates à la viande (ciboulette, thym, basilic, persil...) et pour le fromage, on a utilisé à chaque fois une tranche de vieux Bruges et une de fromage à la moutarde... Un vrai bonheur. Par contre je vous préviens, il vaut mieux prévoir ça un soir où vous n'avez rien de prévu après, parce que bonjour l'immobilisme qui suit le repas ! ;)
I also tried to perfect my cooking skills ! Along with Oli, my gourmand friend, we prepared in 20 minutes the most amazing burger I've ever made (and ate) ! What made it so special? Well, we mixed a whole bunch of herbs into the meat (chive, thyme, basil, parsley...) and for the cheese, we decided to use one slice of old Bruges and one slice of mustard cheese per piece... simply delicious. If you wanna try, knock yourself out, just keep in mind you won't be able to move your fat ass for the next couple hours ! ;)
Chez Millie Vanillie, j'ai (presque) rencontré Kanye West dans les toilettes.
In the bathroom at Millie Vanillie, I (almost) met Kanye West.
Je vous disais que j'ai changé de boulot... donc en fait, depuis début octobre et jusqu'au 20 décembre, je suis store manager du pop-up ouvert par Hello bank! à Bruxelles (rue du Fossé aux Loups, juste avant la rue Neuve). Il s'y passe un million de choses que je ne vous détaillerai pas ici (mais allez voir le programme, vous trouverez forcément quelque chose pour vous), et récemment j'ai profité d'une accalmie pour me faire scanner en 3D... et commander un mini-moi, imprimé en 3D et en couleurs s'il vous plaît !
Passez me voir du mercredi au vendredi de 12h à 19h et le samedi de 12h à 18h, on fera un T-shirt ensemble :)
I was telling you I started a new job... well, actually, since october and until the 20th of December, I'm the store manager of the Hello bank! pop-up in Brussels (wolvengracht, just before the Rue Neuve). There's a lot going on and I won't detail it here (but you should definitely check the programme online!), and I recently took a few minutes to get myself scanned in 3D... and order a 3D-printed, full color, mini-me !
Come by from Wednesday until Friday from 12 to 7pm, and on Saturdays from 12 to 6. We'll design a t-shirt together !
Dernière chose, et pas des moindres: on est nominés aux Red Bull Elektropedia Awards avec Survivor dans la catégorie Breakthrough Party Of The Year! C'est déjà un super honneur de se retrouver dans le top 10, ça le serait encore plus de fouler les marches du podium... alors si vous voulez nous donner un coup de main, rendez-vous sur awards.redbullelektropedia.be et choisissez Survivor dans la liste Breakthrough Party Of The Year (et Survivor Tag Team dans le top 100 des DJs)!
Attention, vous devrez également voter pour 2 noms dans minimum 5 catégories pour que votre vote compte ;)
Merci d'avance !
Last but not least: Survivor, my baby, is nominated for the Red Bull Elektropedia Awards in the category Breakthrough Party Of The Year! It's already an honour to be in the top 10, it would be even more awesome to get on the podium... so if you wanna make it happen, go on awards.redbullelektropedia.be and pick Survivor in the category Breakthrough Party Of The Year (and Survivor Tag Team in the DJ top 100)!
Attention, you do have to vote for 2 names in at least 5 categories to make your vote count ;)
Thanks very much !
mercredi, 20 août 2014
Ca y est: la ville se remplit, le temps se rafraîchit, la circulation devient plus dense... l'été, c'est presque fini, qu'on le veuille ou non !
Je ne sais pas vous, mais le mien est passé à toute vitesse en plus. Je me souviens encore très distinctement de ma première soirée en sandales et de mon premier barbecue...
Bon, avant d'enterrer les tongs, la crème solaire et le rosé, je vais quand même revenir en images sur ces quelques dernières semaines ! Mon été fût, comme toujours, très chargé: entre festivals, soirées et travail, j'ai pas vraiment eu le temps de me reposer. Mais vous savez ce qu'on dit: on dormira quand on sera mort!
...And there we are, already: the city fills up, the weather gets colder, traffic becomes more dense... summer is coming to an end, whether you like it or not!
I don't know about you, but mine went by so fast that it's almost frustrating. I still remember very clearly my first barbecue and wearing sandals all night for the first time of the year !
But before burying our flip-flops, sunscreen and rosé, I wanted to have a look back at the past few weeks. My summer was, as always, very busy - between festivals, parties and work, I didn't really get a lot of time to rest. But you know what they say: we'll sleep when we're dead!
La première étape après Dour, c'était Tomorrowland, où nos résidents Survivor jouaient. On en a profité à fond, du set de Vitalic sous la pluie aux concours de fistpump de la mainstage!
The first step after Dour was Tomorrowland, where our Survivor residents were playing. We made ​​the most of that day, from Vitalic's set under the rain to fistpumping contest at the mainstage!
Quelques jours après, on rempilait pour une Survivor au Club 69, où pour célébrer les Gentse Feesten, nous organisions une 'Pool Party' (mais sans piscine).
A few days after, it was time to party again, as we were celebrating Gentse Feesten at Club 69 with a pool party-themed Survivor (only we had no pool).
(pics by Nikolai Kokanovic)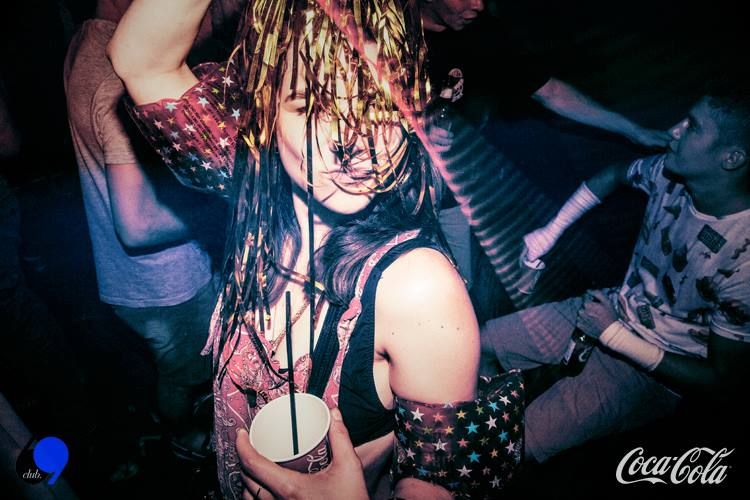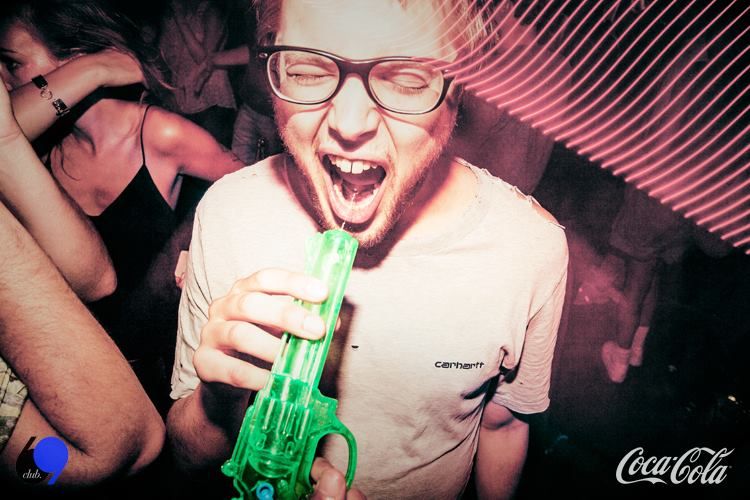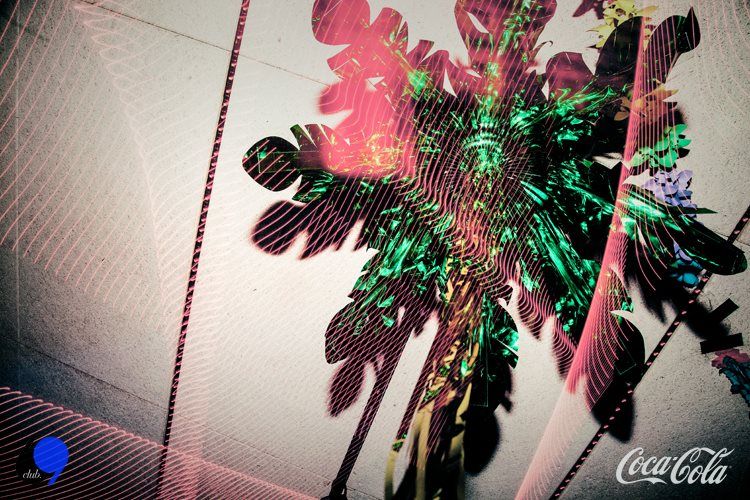 Puis, moment tant attendu durant tout le dernier semestre... WECANDANCE est arrivé ! Nous hostions une scène le samedi, et on a eu beaucoup de chance avec le temps. Il a fait magnifique, le site était superbement décoré et les festivaliers lookés comme des pharaons. Un énorme merci encore à toutes les Néfertitis et tous les Ramsès qui ont fait le déplacement !
Then, finally, came that moment we'd been waiting for the whole semester... WECANDANCE ! As you might now, we were hosting a stage on Saturday and we got very lucky with the weather. It was very sunny, the site decoration looked amazing and the crowd was as stylish as Cleopatra. Many thanks again to all the Nefertitis and the Ramses who came along !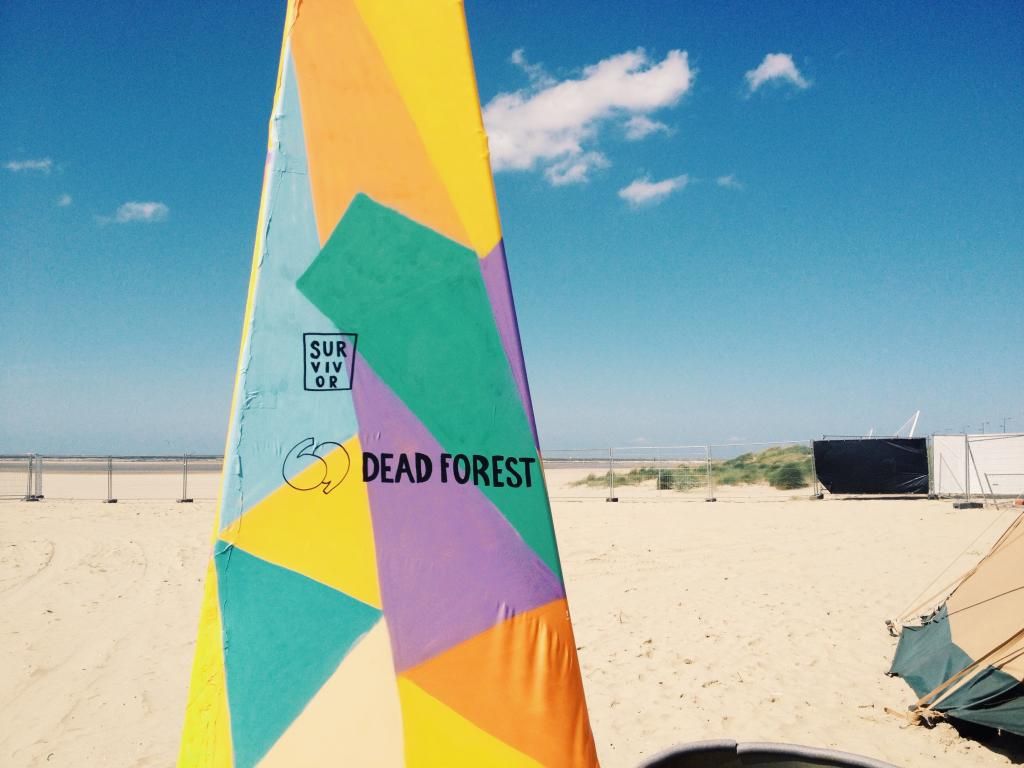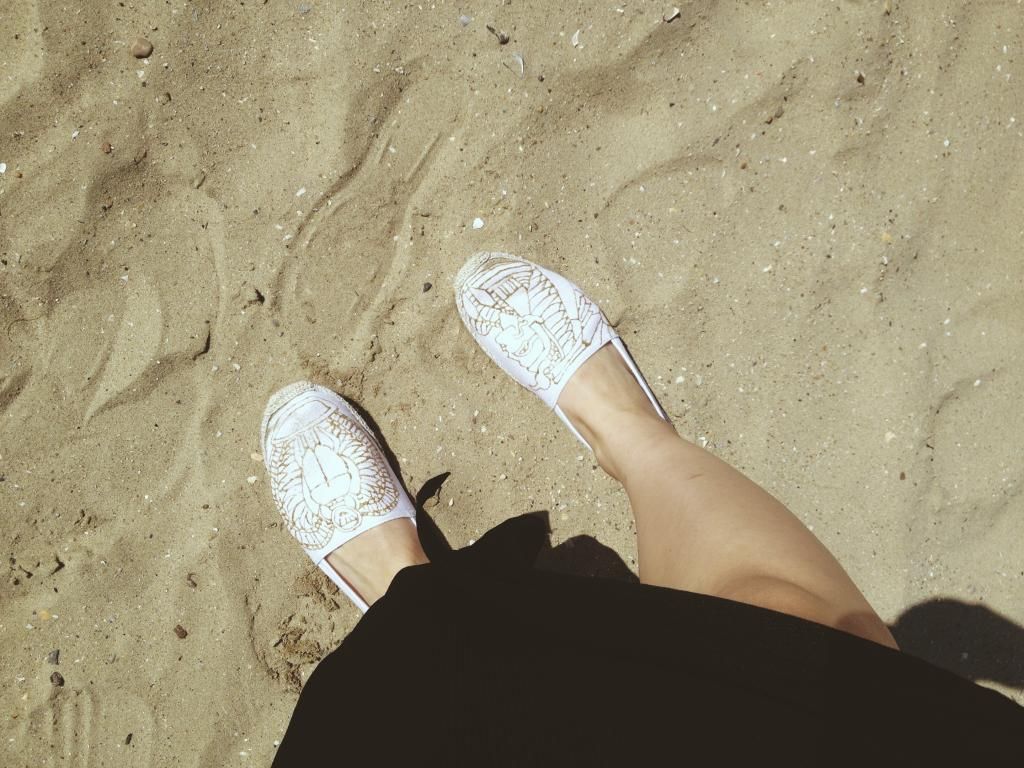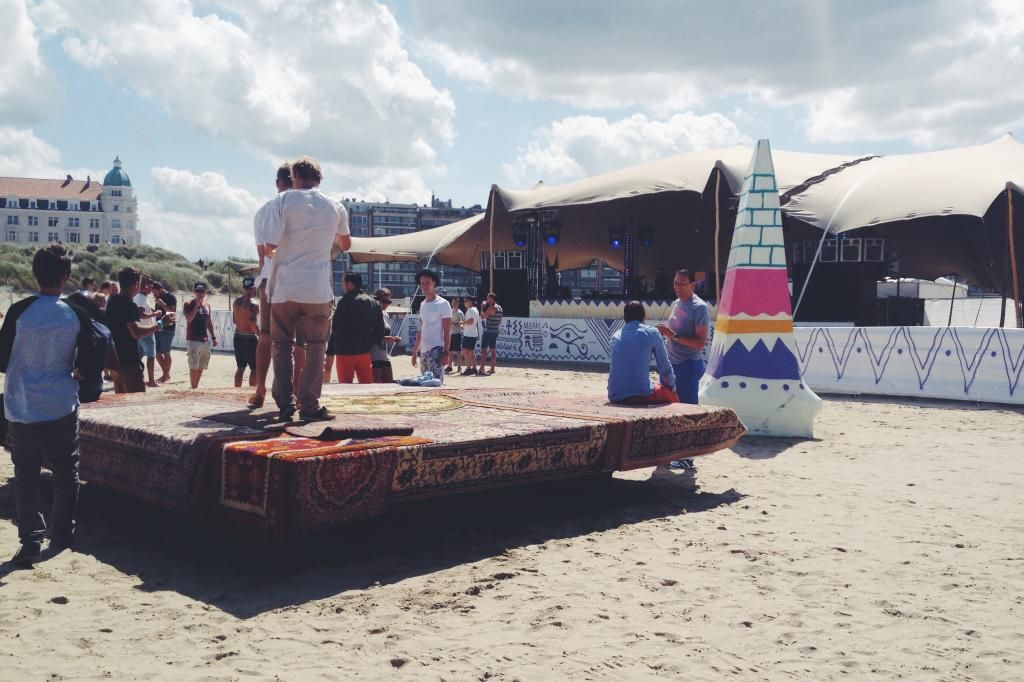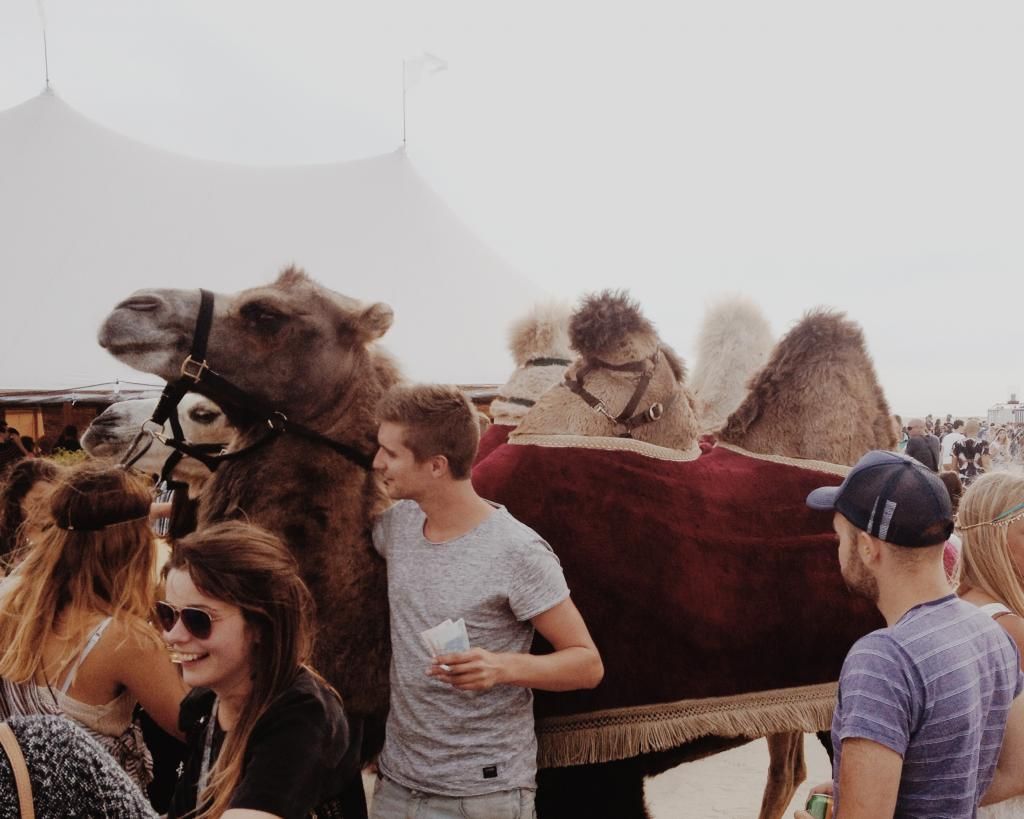 2 Fujifilm Instax pics by Alizé Jalhay
Enfin, le week-end dernier fut marqué par la traditionnelle fermeture en beauté de l'été, avec le Pukkelpop qui, encore une fois, a tourné à la grosse grosse éclate. Le temps n'était certes pas au top mais est resté relativement supportable et surtout, l'ambiance, elle, était bien là! J'ai vu des concerts formidables, mangé des trucs délicieux et eu quelques fous rires incontrôlables...
And finally, last week-end was that time of the year, when we all have to say goodbye to summer in a big celebration: Pukkelpop ! The weather wasn't as good as last year but it was still okay, for the rest, this year's edition once again delivered ! I had an amazing time, saw some great concerts, ate some delicious food and had a bunch of crazy laughs !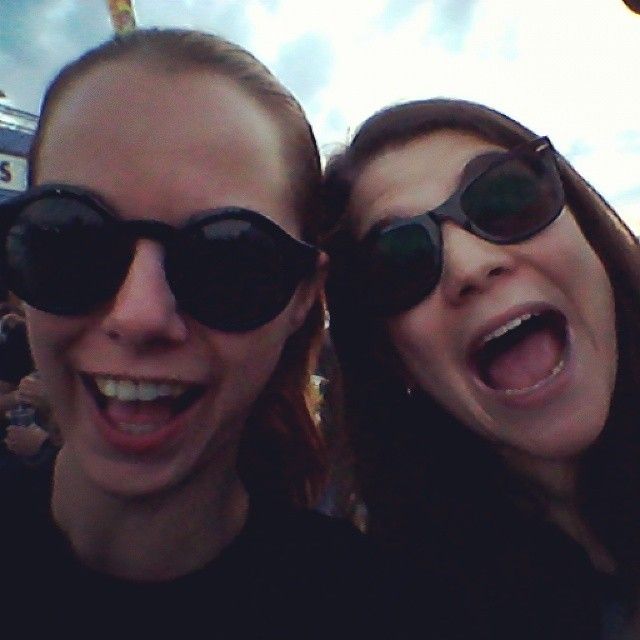 Selfie by Sara Pletinck
Alors oui, l'été n'est pas techniquement fini, mais je pense que j'ai bien fait le plein de souvenirs ! Bientôt, la suractivité laissera place à l'hibernation... dans 4 mois, c'est déjà Noël ! ;)
So yeah, indeed, technically, summer's not over yet... but I think I've gathered a lot of memories already ! Soon, those busy days will be gone and hibernation will start. Hey: Christmas is in 4 months ! ;)
mercredi, 16 juillet 2014
Comme l'été s'annonce chargé, je me suis dit que je ferais un rapide résumé de ce qu'il m'est arrivé ces dernières semaines !
Since the upcoming summer week already look pretty busy, I thought I'd do a quick summary of what happened in the past few weeks!
En juin se déroulaient les soldes Taschen, l'éditeur roi des coffee table books. A.k.a. "me lâchez pas là-dedans bordel, je vais faire un massacre". Au final, je suis repartie avec 2 sacs remplis, soit 8 livres pour moins de 70 euros! J'en ai profité pour feuilleter les nouveaux arrivages et croyez-moi, la rentrée nous apporte bien d'autres merveilles :)
A few weeks ago, I was one of the lucky few to visit Taschen's, aka the king of coffee table books, sales. I tried to stay calm and not buy the whole store (the fact that I don't have a car really helped me keeping my feet on earth), in the end, I left with two full bags, so 8 books for less than 70 euros! I took the opportunity to browse the new arrivals and believe me, the fall will bring many more wonders :)

Taschen, rue Lebeau 18, 1000 Bruxelles (en bas du Sablon).
Raaaaahhhh ce jus de baies de Goji! Découvert au café True Beans, qui a ouvert il y a quelques semaines à Gand, ce jus délicieux, sain et rafraîchissant m'a rendue complètement accro. Et ça se boit même avec de la vodka (nooonn?? eh si)!
Bon, c'est des fruits, donc c'est plein de sucres et il ne faut pas en abuser. D'ailleurs, suite à la lecture récente d'un article disant qu'on n'avait pas besoin de plus de 15g de sucre par jour (c'est rien du tout!), j'ai commencé à faire des recherches et j'ai mis la main sur des trucs pas joli-jolis à propos du sucre. On y serait dépendant à un point que, au-delà de l'aspect prise de poids/diabète, le sucre régulerait carrément nos humeurs, et aurait un effet sur notre patience, notre concentration, notre fatigue… bref, une vraie crasse dont on n'a pas besoin mais à laquelle on est complètement accro. Alors même si franchement, j'aurais beaucoup de mal à me passer des Oreos et des milkshakes, ça m'a beaucoup fait réfléchir et j'ai décidé de commencer à réduire progressivement ma consommation de sucres. On verra comment ça se passe... quelqu'un a-t-il déjà testé? Si la thématique vous intéresse, je vous conseille ces deux articles :
Conscience & Santé: Accro au sucre, comment je me suis sevré
Laura Marie TV - Le Sucre: Comment se débarrasser de ses pulsions en 4 étapes
This Goji berry juice !!! Since I discovered it at True Beans, a coffee place that opened a few weeks ago in Ghent, this delicious, healthy and refreshing juice got ​​me completely hooked. And you can even drink it with vodka (yes, I did it)!
Well, it's fruit, so it is full of sugar and you shouldn't drink too much of it. Recently, following the reading of an article saying that we don't need more than 15g of sugar per day (which isn't much!), I started doing some research and I learned some pretty dirty stuff about sugar: apparently, beyond the aspect of weight gain/diabetes, sugar also regulates our moods, and affects our patience, our concentration capacity, our tiredness... basically, like a very bad and addictive drug that we all consume daily. And even though, honestly, I don't think I could quit Oreos and milkshakes, it made ​​me think a lot and I decided gradually reduce my intake of sugars. We'll see how it goes! Anybody tried it already?
Quand il s'agit de se déguiser, je suis TOUJOURS la première et la plus motivée. Cette fois, le thème était 'les ronnys des années 90' (le thème de rêve!) et j'ai mis le paquet: faux piercing, collier tattoo, mèches grasses et même contour des lèvres en brun. L'amour du détail, voilà ce qui fait un bon costume !
Pour la petite histoire… on s'est pointés à 6, dont 4 déguisés, et… personne d'autre ne l'était. Over-enthousiastes peut-être? Jamais!
When it comes to dressing up, I am ALWAYS the first in line. This time, the theme was '90s-gabber-weirdos' (aka the perfect theme! - sorry it's kinda hard to translate for non-belgians), so I really went for it: fake nose piercing, tattoo necklace, greasy locks and even brown lip contour. It's all in the details !
For the record, we went there with a group of 6, 4 of us dressed up...and nobody else was. Over-enthusiastic much? I regret nothing!
Enfin, la saison belge des festivals a officiellement commencé ! Sous la pluie, certes, mais dans la joie et dans la bonne humeur.
Pour ma part, je suis allée le samedi à Werchter, pour voir Moderat, Trentemoller, mais aussi (et surtout) le quart de finale Belgique-Argentine. Vous le savez, c'était notre dernier match en Coupe du Monde, mais waouw, quelle folie ! Le monde qui s'était rassemblé sous l'écran géant du festival était impressionnant à voir, et le fair-play des supporters, vraiment exemplaire.

Le week-end dernier, c'était direction les Ardentes, dans ma ville natale de Liège. Bottes aux pieds (mon meilleur achat de la saison, apparemment!), je suis allée siffler des bières devant les concerts de Method Man & Redman, T.I., Elliphant ou encore Booka Shade.
Finally, the Belgian festival season has officially begun! Under the rain, of course, but nothing can ruin my mood !
I attended Rock Werchter on Saturday, to see Moderat, Trentemoller, but also (ok, mostly) the Belgium-Argentina quarter final. As you know, it was our last game in the World Cup, but wow, such madness! It was very impressive to see the amount of people who gathered under the festival's screen, and the Red Devils' fans were very fair play, a real example of humility for any losing team.

Last weekend, it was time to travel to my hometown for Les Ardentes. Boots on my feet (my best buy of the season, apparently), I went to down beers and watch concerts such as Method Man & Redman, TI, Elliphant or Booka Shade.
Prochaine étape: Douuuurrrééééé !! Ca commence demain, et je suis chaude comme une baraque à frites. On se retrouve d'ailleurs ici lorsque je serai remise… en attendant, suivez mon Instagram pendant le festival!
Next step: Dour Festival ! Starting tomorrow, follow my Instagram to live it through my eyes. I'll be here soon - after the traditional Dour recovery ;)
jeudi, 26 juin 2014
J'imagine que maintenant, vous avez tous et toutes entendu parlé du scandale qui a récemment secoué le département RP de chez Primark, vu l'omniprésence de cette actualité sur les réseaux sociaux. Si ça vous a échappé: en résumé, une jeune femme a trouvé dans une robe provenant de la marque irlandaise une étiquette sur laquelle était cousu ce message: forcé(e) de travailler des heures épuisantes. Et ce cas a beau être horrible et inacceptable, ce qui m'a choquée, c'était surtout l'hypocrisie de certaines réactions que j'ai pu voir.

I guess by now you've all heard about the scandal that recently shook Primark's headquarters, since it has been all over the social media. If you haven't: in a nutshell, some girl found a tag sewed in a dress she had bought there, with a very explicit message: forced to work exhausting hours. As terrible and unacceptable as this is, I was shocked to see how hypocrite most people's reactions were.



Et quoi, maintenant on va donc juste faire semblant qu'on ne savait pas? Nous avons tous, toutes dans nos placards des vêtements et autres qui ont été produits dans des conditions absolument inhumaines. En réalité, le doute peut s'installer en à peine 5 secondes, c'est à dire le temps de lire l'étiquette. Si celle-ci dit « made in Bangladesh », il y a de fortes chances que la/les personne(s) qui ont fabriqué ce que vous tenez en main ne travaillent pas 35h/semaine sous la protection d'un syndicat. Il y a même une chance qu'elle(s) ai(en)t moins de 18 ans. Le prix, lui-même, devrait être le premier signe à vous alerter: comment pensez-vous qu'il soit possible de faire une robe pour 10€? Ce n'est d'ailleurs pas la première fois qu'un tel scandale est mis à jour (voir cet exemple, dans lequel Primark était déjà impliqué, ou celui-ci, mais il y en a un paquet d'autres), et pourtant on dirait que les gens oublient - ou font semblant d'oublier - ce que sont les conditions dans lesquelles la fast-fashion fabrique ses produits. Et je comprends tout à fait - qui voudrait passer sa vie à constamment culpabiliser?

Like, what, now let's all pretend we didn't know about this ? We all own clothes and products that are manufactured in terrible conditions. It only takes a few seconds to even just read the tags. If it's written "made in Bangladesh", there is a big chance the person(s) who made what you're holding wasn't working 35h/week and protected by a union. There's even a chance that person wasn't 18. The price itself should be suspicious enough for you to not buy those things: how do you think it's possible to make a dress for 10€? It's not the first time that such a scandal appears (see examples here - where Primark was already involved - and here, but there's many more), and yet people seem to (pretend to) forget about it. And it's an understandable reaction: who would want to constantly feel guilty?



Ce qu'il y a, quand on essaye quelque chose chez H&M, Primark, Zara, et qu'on réalise qu'il y a une possibilité que cet article ait été produit dans des conditions douteuses, ça demande beaucoup de volonté de le laisser sur place à cause de ça. Parce qu'on veut être la première à l'avoir, ou parce que tout le monde l'a et qu'on le veut aussi, parce que c'est « tellement pas cher », parce que ça fait longtemps qu'on en cherche un, ou tout simplement parce que c'est joli et qu'en plus ça tombe parfaitement. La vérité, c'est qu'il y aura toujours un million de raisons de continuer à fréquenter ces magasins et d'en ressortir avec un sac bien rempli. J'écris tout ça maintenant, mais vous devriez voir le nombre de vêtements issus de ces enseignes qui se pressent dans ma garde-robe. C'est vrai que depuis quelques années, je suis beaucoup plus sensibles aux problématiques de surconsommation et à l'impact que celles-ci ont sur d'autres personnes sur Terre, et j'achète beaucoup moins de vêtements, tout en essayant au maximum de m'habiller auprès de marques plus petites, plus locales, plus éthiques, qui défendent une philosophie à laquelle je veux adhérer. Évidemment, ça me coûte plus cher, mais la qualité est nettement meilleure, du coup mes vêtements durent plus longtemps et au final, c'est un meilleur investissement. J'arrive à résister de mieux en mieux à l'irrépressible envie de shopper, d'avoir de nouvelles choses, et je sais que c'est très dur, surtout que les marques de fast-fashion ont fait leur spécialité de réapprovisionner leurs rayons avec de nouvelles collections toutes les semaines, tout ça pour nous donner l'impression qu'il y a toujours mieux, toujours plus 'must-have', comme si acheter un nouveau vêtement pouvait nous rendre heureux (scoop: un vêtement ne fera jamais votre bonheur au-delà de la demi-heure après l'achat/la réception).

The thing is, when you try on something at H&M, Primark, Zara, and it turns out to be made in shady conditions, it takes a lot of will to leave it there because of that. Because nobody has it yet, or because everybody has it and you want it too, because it's so cheap, because you've been looking for one for a long time, or just because it looks really cool and fits perfectly. There are a million reasons why we all go to these stores and don't leave empty-handed. I'm writing this now, but you should see the amount of fast-fashion items I own. I do shop way less now, compared to when I was still studying, and I feel more conscious about those issues. As hard and expensive as it is, I try to support smaller, local brands as much as I can, because I respect the way they work and I want to support it. I pay more, but the quality is better, so they last longer, and in the end, it's a better investment. I manage to resist more and more to the urge of buying new things all the time, and I know it's hard, especially because all these brands release new ranges all the time and make you feel like there's always something more to have, something that will make you more happy (hint: clothing can't make you happy more than 30 minutes).

Source: NYTimesBlog

Je ne veux surtout pas avoir l'air d'une rabat-joie ou passer pour une donneuse de leçons, c'est juste que ça m'a mis très en colère de réaliser combien de gens avaient encore besoin d'un pareil scandale pour ouvrir les yeux et commencer à remettre en question leur façon de consommer.

Et croyez-moi, je sais très bien qu'il est impossible pour des gens 'normaux' d'éviter complètement les marques de fast-fashion, mais j'espère que tout ceci vous aura donné envie de casser ce rapport de dépendance que nous pouvons avoir envers elles. Vous verrez, votre portefeuille vous en remerciera et vos placards aussi.

I'm not trying to be a party-pooper here or to teach lessons or anything, I just felt very angry when I realized how many people needed a reality-check like the scandal that happened to start questioning their consuming habits.

And believe me, I know it's impossible for 'normal people' to avoid fast-fashion brands, but please consider depending less on them; you'll see, your wallet will thank you and your closet might feel better as well.



Source: OXFAM

Une des 'solutions' que je mets en pratique pour essayer, à mon échelle, d'améliorer les choses, est de revendre les vêtements que j'ai acheté mais que je n'ai jamais ou très peu porté. Je ne fais pas de profits de dingue, mais ça rend d'autres nanas heureuses et ça me met une claque à chaque fois (vous n'imaginez pas combien j'ai pu gaspiller d'argent en achetant des vêtements que je n'aimais pas vraiment).

Chaque saison, je donne aussi pas mal de vêtements, de chaussures et d'accessoires aux plus démunis. C'est une bonne façon de soutenir une économie alternative.

Si vous souhaitez faire de même, je vous conseille de passer par Oxfam - les autres associations sont probablement très bien aussi ! Ah et dernière chose: s'il vous plaît, ne donnez pas de vêtements abîmés. Ce n'est pas une poubelle mais une filière de seconde main, ce sont des vêtements qui permettront à d'autres de s'habiller correctement.

Something I do to try and make things better, is selling the clothes that I once bought and never worn or don't like anymore. I don't make huge profits, but some of them make some other girls really happy and it teaches me to avoid making mistakes (you have no idea how much money I wasted on clothes)!

Every season, I also give away a lot of clothes, shoes and other goods to the less fortunate. It's a good way of supporting an alternative economy.

If you'd like to do the same, I recommend you to do it with Oxfam - of course about any other NGO will do. Also, please don't give away damaged, worn out clothes: this is not trash, it's meant for other people to dress properly.


On ne peut pas faire grand chose, on ne peut pas bouleverser un système si rentable et bien rôdé, mais on peut prendre conscience de ce qui nous entoure et essayer de s'en détacher !
We can't really change the world, we can't turn the system upside down, but we can be more conscious and take a few steps away from it !
mercredi, 21 mai 2014
Waouw, ça fait hyper longtemps que je ne vous ai plus donné de nouvelles !
Pourtant qu'est-ce que j'ai été occupée ces derniers temps ! Entre travail, events et autres distractions perso, ce printemps 2014 prend beaucoup de place, jusqu'à dans mes photos iPhone, où j'ai collecté quelques souvenirs...
Oh wow, it's been a while since you've heard about me !
Doesn't mean I haven't been busy lately: au contraire, between work, events and other personal distractions, this spring 2014 was one to remember, especially when I take a look back at all the pictures i took on my iPhone...
Lors du Press Day de l'agence Tan-dem, j'ai pu tester le nouvel Instax Mini au look rétro ! Les photos sont les mêmes que celles des autres Fujifilm Instax Mini, certes, par contre il a beaucoup plus de gueule (et ça compte)! Il coûte environ 150€.
During Tan-Dem's Press Day, I had the occasion to test the new 'retro'-styled Instax Mini ! Sure, the pictures that come out are the same as the other Fujifilm Instax Mini, but it looks so much cooler (and we all know how much that matters)! It costs about 150€.
J'ai fait assez peu de shopping ces derniers temps, par contre je suis heureuse de dire que cette superbe paire de sneakers ajourées fait partie des rares craquages. Ce sont des Prudence, de la marque Geox, par contre je ne les vois nulle part online dans cette version, donc rendez-vous en magasin !
I haven't shopped a lot in the past few weeks, but I'm proud to say I took home this gorgeous pair of cutout sneakers. They're called Prudence and are from Geox, unfortunately I can't seem to find them anywhere online, so if you like them you should definitely run to your nearest store !
Ce printemps, c'est aussi (enfin!) le grand retour de The Subs, aka un des groupes belges les plus talentueux qu'il m'ait été donné de voir. J'ai pris cette photo lors de leur concert à l'AB, mais ils tourneront encore cet été ! Je vous conseille de vous jeter tout de suite sur leur album Hologram, qui est juste incontournable.
This spring is also (finally) The Subs' big comeback ! They're one of the best belgian bands that I've ever been lucky enough to see, I took this picture at AB during the kickoff of thei tour, but there will be more dates this summer so I really recommend you go check'em out + listen to their latest album, Hologram ! It's a masterpiece, I can't stop playing it.
Tradition printanière s'il en est, les mariages squattent nos agendas tous les week-ends ! Samedi dernier, j'ai profité du beau temps pour sortir jambes nues dans cette robe achetée chez Monki à Amsterdam. Les shoes viennent de chez Zara et le bracelet et le rouge à lèvres, de chez & Other Stories !
Spring also means there is a wedding scheduled somewhere pretty much every weekend, and I like to dress up, so last Saturday, I decided to enjoy the nice weather bare-legged in this Monki dress that I bought in Amsterdam. The shoes are from Zara and the bracelet and the lipstick, from & Other Stories !
Après quasi 7 mois dans mon nouvel appartement, la déco commence ENFIN à ressembler à quelque chose, et franchement je n'en suis pas peu fière. Allez, bientôt un post spécial 'home' pour vous présenter mon deux-pièces?
After almost 7 months in my new apartment, the decoration is finally starting to look good, and to be honest, I'm very proud ! Maybe I'll publish a 'home' blogpost soon to introduce you to my studio if you like!
LE grand événement de la saison, c'est l'arrivée d'& Other Stories en Belgique ! J'étais à l'ouverture du premier magasin, situé Korte Gasthuisstraat 17 à Anvers. Le magasin bruxellois ouvrira lui le 7 juin dès 10 heures au numéro 15 de la Toison d'Or. De ce que j'ai vu, rien que l'intérieur vaut le détour ! Ah, mais attention, impossible d'en ressortir les mains vides par contre... en témoignent ce top/bomber et ce collier doré... oups ;)
This season's big event is the arrival of & Other Stories in Belgium ! I was at the opening of the first store, in Korte Gasthuisstraat 17, Antwerp. The Brussels shop will open its doors on June 7th at 10am, and will be located at the n°15 of the Toison d'Or. From what I've seen, even just the interior decoration of their stores is worth a visit, but be careful, because I never managed to leave empty handed... this bomber/top and the necklace are only a few exhibits !
Autre arrivée très attendue, celle du soleil ! Il aura mis du temps à revenir, mais ça y est, le week-end dernier j'ai eu mon premier barbec de l'année ! Totale impro dans un parc à Gand, trop de bières et mini-coups de soleil (pourtant je vous JURE j'étais protégée!), bref, un avant-goût de l'été digne de ce nom. J'espère en faire très vite une habitude !
Another much-anticipated event was the sun's comeback! It took some time, but eventually, last week-end I had my first barbecue of the year ! We totally improvised with a disposable BBQ in a park in Ghent, had too many beers and got slightly sunburnt (but I swear I was wearing sunscreen!), so I guess this means it was a good foretaste of the summer. I'm planning to turn this into a habit very quickly !