iPhone diary #2
Mes bottines Sacha (largement inspirées des Susan de Chloé), qui sont vieilles maintenant mais que j'aime toujours aussi fort!
(photo Laurent Duffaut avec un objectif fisheye pour iPhone)
My Sacha booties (obviously inspired by Chloé's famous Susan boots)...they're getting old now, but I still love them and wear them all the time!
(photo by Laurent Duffaut with a fisheye for iPhone Lens)
Ma tenue de nouvel an (robe Acne, veste Zara)
My outfit for NYE (Acne dress, Zara jacket)
...et donc, ma cover iPhone commandée sur le site Society6 dont je vous parlais dans mes idées cadeaux. Il s'avère après réception que la qualité est assez médiocre (surtout vu le prix, 26 euros c'est pas donné pour une cover qui part en lambeaux avant même de l'avoir utilisée). Mais bon, le motif est cool, non?
...and my new iPhone cover, that I ordered on Society6, the website I was telling you about in my Christmas gift ideas blogpost. Well it seems like they aren't so great, since mine was decomposing before I even opened the package. I must say I'm pretty disappointed by the quality, especially for the price I paid (26 euros). I still kinda dig the sugar skull, though!
Le dessert que ma copine Carolina nous a servi au nouvel an. Je n'ai juste pas de mots pour décrire ce que j'ai ressenti quand j'ai goûté cette merveille!
The dessert that my friend Carolina served at NYE dinner. I can't find the words to describe the feeling I had when I tasted the first bite!
Et pour la traditionnelle première gueule de bois de l'année, un épisode de Curb Your Enthusiasm, série ultra culte dont je dois la découverte à mon amoureux et que j'adore...j'ai enchaîné 7 saisons en 3 semaines! Si vous ne connaissez pas, je vous la conseille. Il faut aimer ce genre d'humour et j'espère que votre anglais est plutôt fluent car ça aide beaucoup à comprendre les subtilités qui en font tout l'intérêt ;)
And for the traditional first hangover of the year, an episode of Curb Your Enthusiasm, an awesome series I recently started watching thanks to my sweet sweet baby and that I absolutely love...it's only been 3 weeks and I'm at season 7! If you don't know it, I really recommend it. Of course you gotta love that kind of humour but I personaly think it's hilarious!
La semaine dernière, j'ai (enfin!) tenté le resto Les Super Filles du Tram (rue Lesbroussart à Ixelles), et je dois dire que c'est à peu près le meilleur burger que j'aie mangé dans un établissement du genre! Viande de qualité, légumes frais, pain délicieux, recettes originales...même Caro qui ne mange jamais de hamburger a englouti le sien. A faire donc si vous êtes dans le coin!
Last week I eventually tried a restaurant that I'd heard a lot about: Les Super Filles du Tram (Lesbroussart street in Ixelles), and I gotta say it's probably the best burger I've ever had in that kind of place! The quality of the meat, the freshness of the vegetables, the unique taste of the bread and the original recipes make it really worth the try. Even Caro (who never eats burgers) was convinced, so put it on your to-do list when you're in the neighbourhood!
On continue le chapitre Top Chef avec un des meilleurs cheesecakes que j'aie jamais mangé...et devinez quoi: c'est moi qui l'ai fait (bon, ok, avec l'aide de mon homme mais quand même)!
Let's talk just a bit more about food while we're at it, with one of the best cheesecakes I've ever tasted...and guess what: I made it myself (ok, with a little help from the boyfriend I have to admit)!
Mes Wayfarer avaient été emportées dans le cambriolage (oui, je sais, c'est n'importe quoi)...j'ai attendu 2 mois avant de trouver de nouvelles lunettes (aujourd'hui je me demande encore comment j'ai fait sans si longtemps) et dimanche dernier j'en ai eu marre! Après quelques essais plutôt infructueux, j'ai enfin trouvé la paire parfaite. Ce sont des Paul & Joe, vous aurez l'occasion de mieux les voir prochainement ;)
My Wayfarers got taken by the robbers (yes, they actually stole 150€ glasses that fit only my eyes) and last weekend, after I got another headache due to the bad functionment of my eyes, I eventually got a new pair! It had been 2 months and now that I have them on, I don't even understand how I could wait so long. They're by Paul & Joe, and I hope I get a chance to show you a better picture soon ;)
J'y ai été plutôt mollo sur les soldes pour l'instant: du basique, de l'utile, du raisonnable! (bracelet Urban Outfitters, jean Cheap Monday)
The sales started over a week ago in Belgium, and I've been quite reasonable up till now: basic and useful are the keywords! (Urban Outfitters bracelet, Cheap Monday jeans)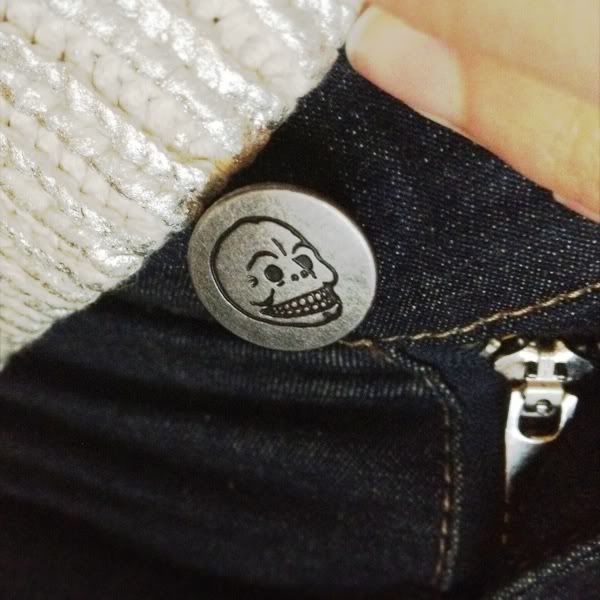 Bon week-end à tous et toutes!
Everyone have a great week-end!